Area and Gensler team up to deliver Research and Development Facility for Citrix in Cambridge.
Citrix has been at the forefront of workspace software solutions for over 30 years. Supporting over 100 million users across 400,000 organisations, including 98% of the Fortune 500 – Citrix is a powerhouse in cloud computing, electrifying a better way to work. With a service offering innovative technology to empower organisations to break free from traditional office constraints, Citrix allow their clients to work from anywhere.
In an era of continuous change, there was no better time for Citrix to renew their strategic vision and real estate requirements, transforming their organisation to deliver an employee experience consistent with their new way of working. This mission was key in unlocking the potential within their own organisation and better supporting their clients innovate through change.
This renewed approach to what employee experience in a post-COVID world actually means, along with a new brand identity to support this, has transformed how Citrix has helped unlock employee potential. Following the successful completion of several workplace projects throughout the UK and mainland Europe for Citrix, including their Paris Experience Center, we were thrilled to partner on this next phase in their transformation journey.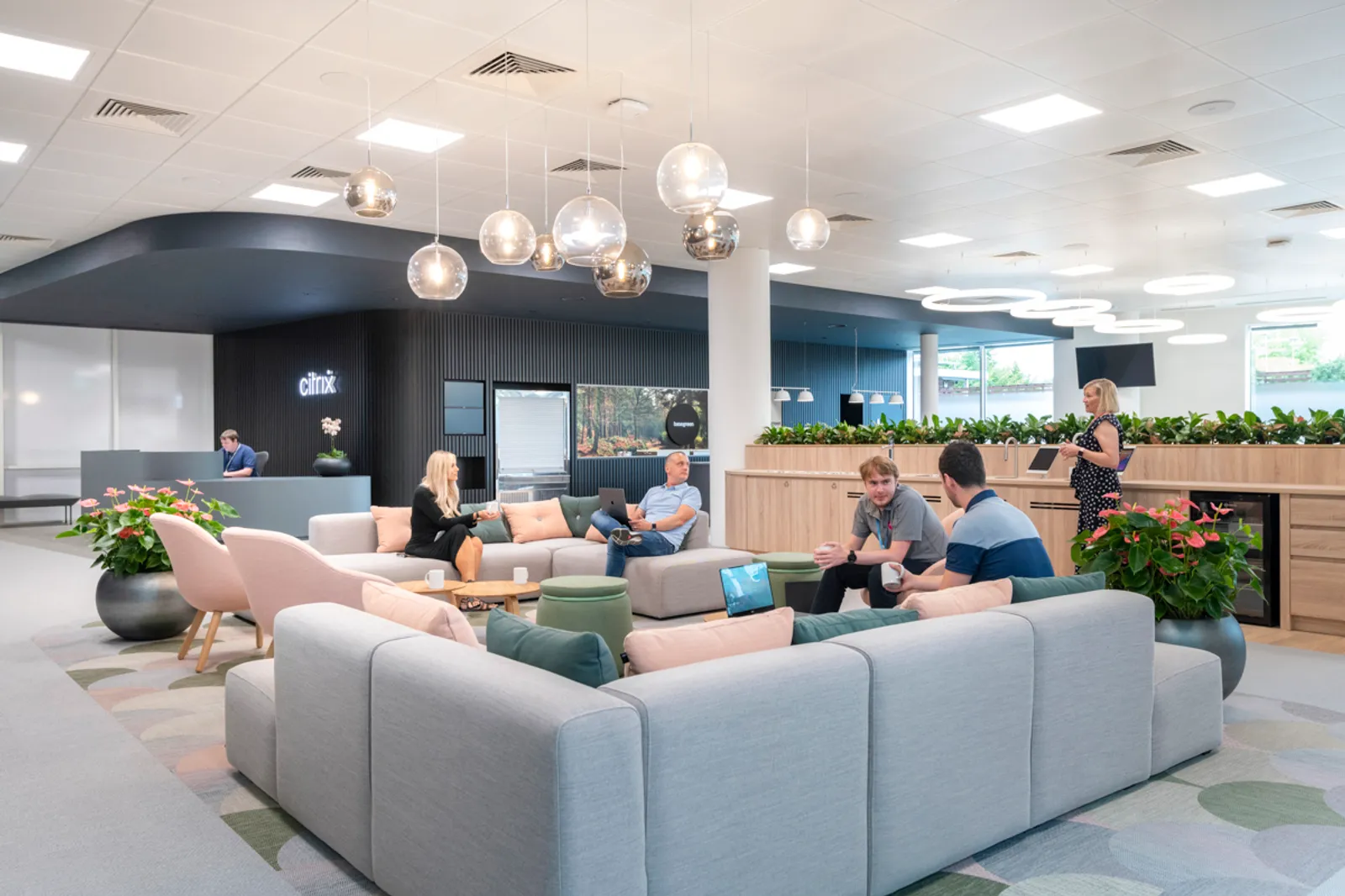 What does a space to succeed look like? We've got some ideas...
Occupying approx. 30,000 sq ft within the landmark Cambridge Science Park, Citrix were motivated to reconfigure their existing workplace and take on additional space to increase operations for their Research and Development team. Working in tandem with Architects – Gensler we evolved the original design scheme, developing our solution and maximising the potential of the space in order for Citrix to establish a new more dynamic way of working.
Citrix were driven to develop a vibrant and social environment that provided a variety of work settings powered by cutting edge technology – reflective of the Citrix vision and culture.
We are thrilled to have been shortlisted for Project of the Year - Workplace Interiors in the 2022 Mixology Awards, for our work with Citrix in Cambridge. The Mixology awards celebrate the very best in commercial interior design from across the UK and beyond.
"We have worked with Citrix on several of their workplaces throughout the UK and mainland Europe and it has been a pleasure to be a part of their ongoing growth and transformation – this time, working alongside Gensler and Colliers International to deliver Citrix's futuristic vision of work in Cambridge."
Nicol Lee – Creative Director, Area
The arrival and reception area – dubbed the 'hi-touch hello' space – was key in delivering an exceptional user experience for employees and clients alike. The open and inviting café and training space was critical in driving their mission – empowering individuals to focus on purposeful work, giving people the space they need to collaborate, grow and thrive.
'Flexibility' as a solution sits at the heart of the workspace. Each 'neighbourhood' accommodates both digital and analogue spaces with working zones, meeting rooms, lounge areas and collaborative and focus spaces. Individual work rooms enable larger team collaboration – each equipped with Microsoft Surface Hubs and are wrapped in whiteboard with acoustic curtains for privacy.
Citrix is driven to create modern workplaces that are collaborative, engaging, and economical, while being environmentally sustainable. Investments in sustainable design features and green operations are made into the development and expansion of all offices within their portfolio. Citrix are firm believers in the triple bottom line – measuring our social, environmental, and financial success.
Citrix's new Cambridge workplace has been sympathetically designed to incorporate environmental best practice, whilst creating a variety of workspaces for staff to focus, socialise and relax. This project achieved 'Ska Gold' – the highest Ska accolade for a sustainable fitout – surpassing the standards required by regulations and incorporating innovative solutions that minimise the environmental impact of the offices. Throughout this project, sustainability was recognised as a key consideration, resulting in improvements of environmental outcomes related to the office refurbishment and the environmental impact of the construction works. The following elements were central to the project's success:
• Waste: Diverting 98.1% of waste from landfill and monitoring all waste streams produced during the project.
• Energy and CO2: Reducing energy usage through the implementation of LED lighting and PIR's and other lighting controls.
• Material Usage: Citrix used several environmentally sustainable materials for the office, including A+ rated environmentally efficient flooring from Bolon and Havwoods, FSC wood and timber, low-VOC paints and finishes, sustainable furniture, and the reuse of elements such as existing carpet tiles.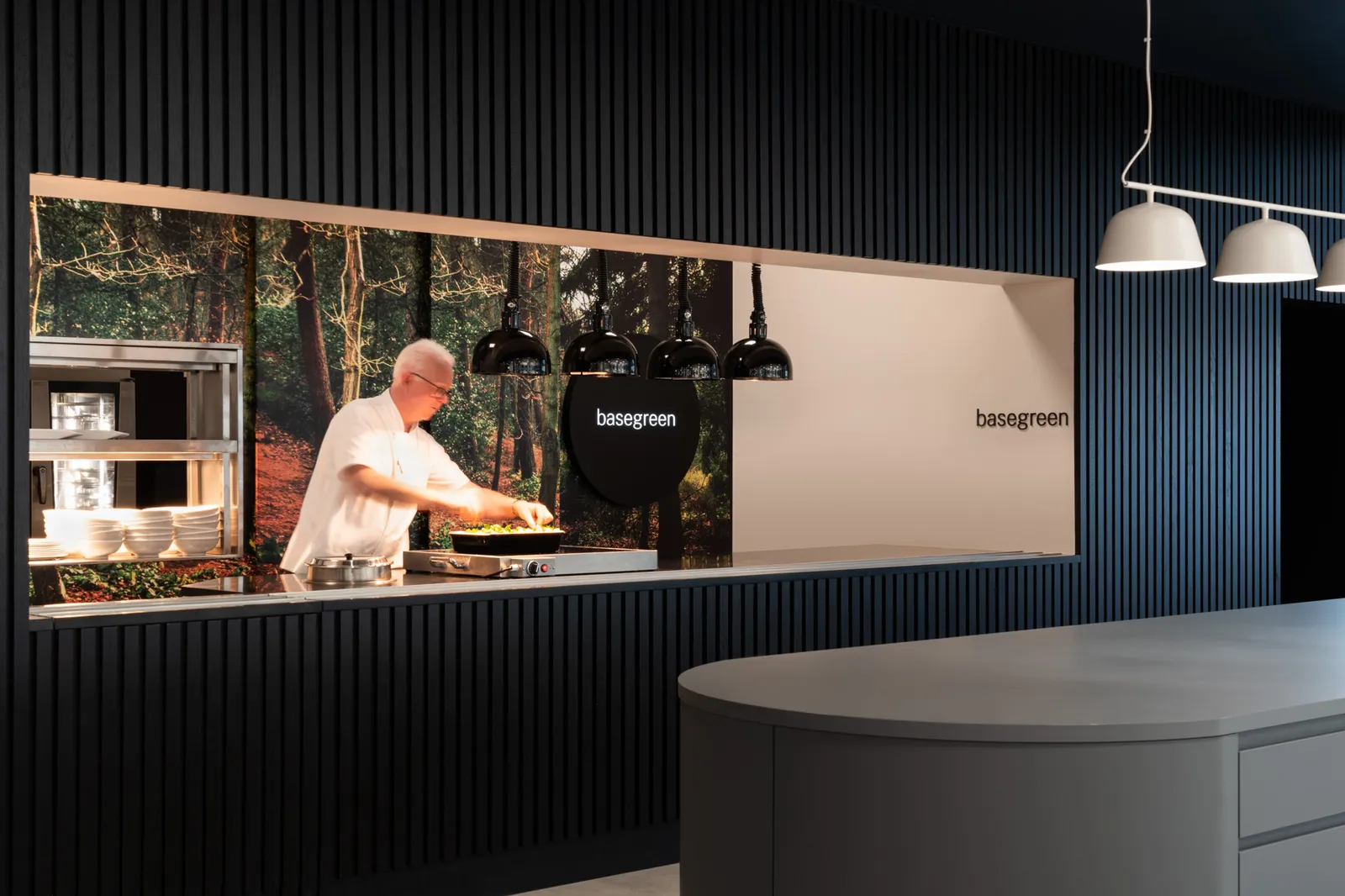 Technology-driven meets human-centered
A 'plug & play' power grid extends the workspace to enable Citrix to flex depending on their future requirements. We've seen many organisations across Europe adopt a similar trend – looking towards more hybrid working solutions.
"We have worked with Citrix on several of their workplaces globally, helping to create cutting-edge design aligned to their future vision of work. It has been a pleasure working alongside Area and the project team, being a part of this growth and innovation for Citrix and its people, especially in the heart of a fast-growing Cambridge tech hub."
Becky Spenceley - Senior Associate, Gensler.
Technology-driven meets human-centered in this new workplace environment. With 60 offices across 40 countries, it was important to represent Citrix's global reach while also incorporating local influence in all workplaces. Inspired by Cambridge's rich cultural history and gothic architecture, while also in keeping with Citrix's modern and sophisticated brand identity, the translation of their vison has been a thoughtful and considered process. Polished surfaces, metals and hardware combined with warm timber, soft upholstery and biophilia, while also incorporating rich blues and reflective materiality with felt paneling and textured flooring, truly epitomises their renewed vision and benchmark in workplace transformation.
"Our goal was to create an environment that provides a variety of technology-driven work settings but also a fun, vibrant social hub which nurtures collaboration, creativity and productivity and which truly reflects the Citrix culture. Area delivered a vibrant interpretation of our vision beautifully crafted by the design team, creating an exciting space seamlessly incorporating our global identity in a local setting. A real space to succeed."
Rares Miron - Director Real Estate & Facilities EMEA, Citrix
Citrix's reimagined workplace environment celebrates diversity, individuality and what's possible when people have the space they need to do their best work.