Area are thrilled to announce that The Earley Buildings project in Reading has taken home the 'Sustainable Development Project' Award at the 2020 Thames Valley Property Awards
This category highlights the credentials of a property from biodiversity to wellbeing, and from energy use to the impact on transportation. The BREEAM Certified Earley Building development is one which promotes energy efficiency, reduces greenhouse gas emissions, and minimises the environmental impact.
A Practical, Flexible Community Space
The objective was clear - set a new standard for workplaces in the Thames Valley; our client, Spear Street Capital wanted to build a facility that created a sense of community, with wellbeing benefits that brought the outdoors in. Their team recognised the potential to deliver something different and add value to the business park - having inherited a development built to a 1980's specification, the site was in a tired condition and ready for a revamp.
This meant the building approach, common parts and amenities all needed redevelopment. The finished solution needed to maximise the floor area, create practical and flexible workspaces and establish functional outside space, ensuring suitability for both single and multi-let tenants.
"If we are going to establish a real campus experience then our development needs to serve everyone on the business park. That's what we mean about adding value."
Jackie Bereiter, Associate, Spear Street Capital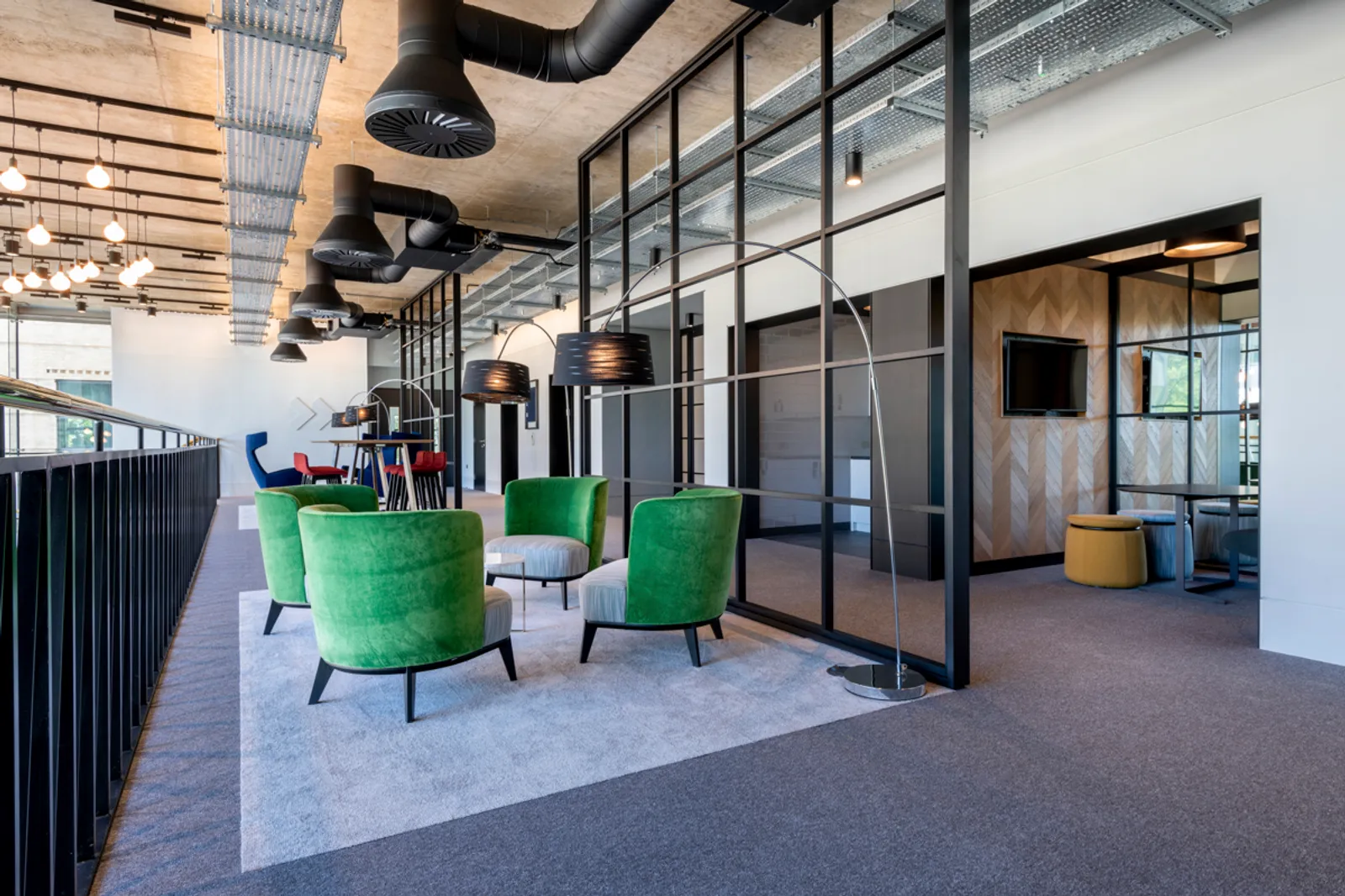 Sustainable Redevelopment Within The Nature Reserve
Area, alongside DTRE, CBRE, Paragon Building Consultancy (Project Managers and QS), PinnacleESP (M&E Services Consultants), Mammal (Brand Agency) and Alphacello (Sustainability Consultants) have delivered an extensive Cat A refurbishment of 85,000 sqft of commercial space. The result is a modern campus-style development designed with sustainability as a key driver, and with tenants' wellbeing in mind. Sitting within the beautiful 80-acre landscaped Thames Valley Park, the site is already something special; but with extensive redevelopment and renewed amenities, there is now a very different dynamic.
"The Earley Buildings have introduced a vibrant, flexible and progressive workplace to the Thames Valley, reflecting our clients' vision and approach for all properties within its portfolio."
Stephen Pulley, Director, Area
Our scope of works included a full strip-out to the building's shell, before a fit out of three floors - major landscaping works were also undertaken to the exterior. Designed with the user in mind, common spaces have been reinvented as informal community areas which offer picturesque views to the external environment. A major centre piece for the project is the alluring two-storey reception space, reflecting the innovative approach from the Spear Street Capital and Area design team.
The Thames Valley Park, water meadows and nature reserve were developed to create a natural floodplain to protect the commercial development, improve natural habitats and increase local biodiversity - the waterside nature reserve is ideal for employees looking for space to enjoy a break with colleagues.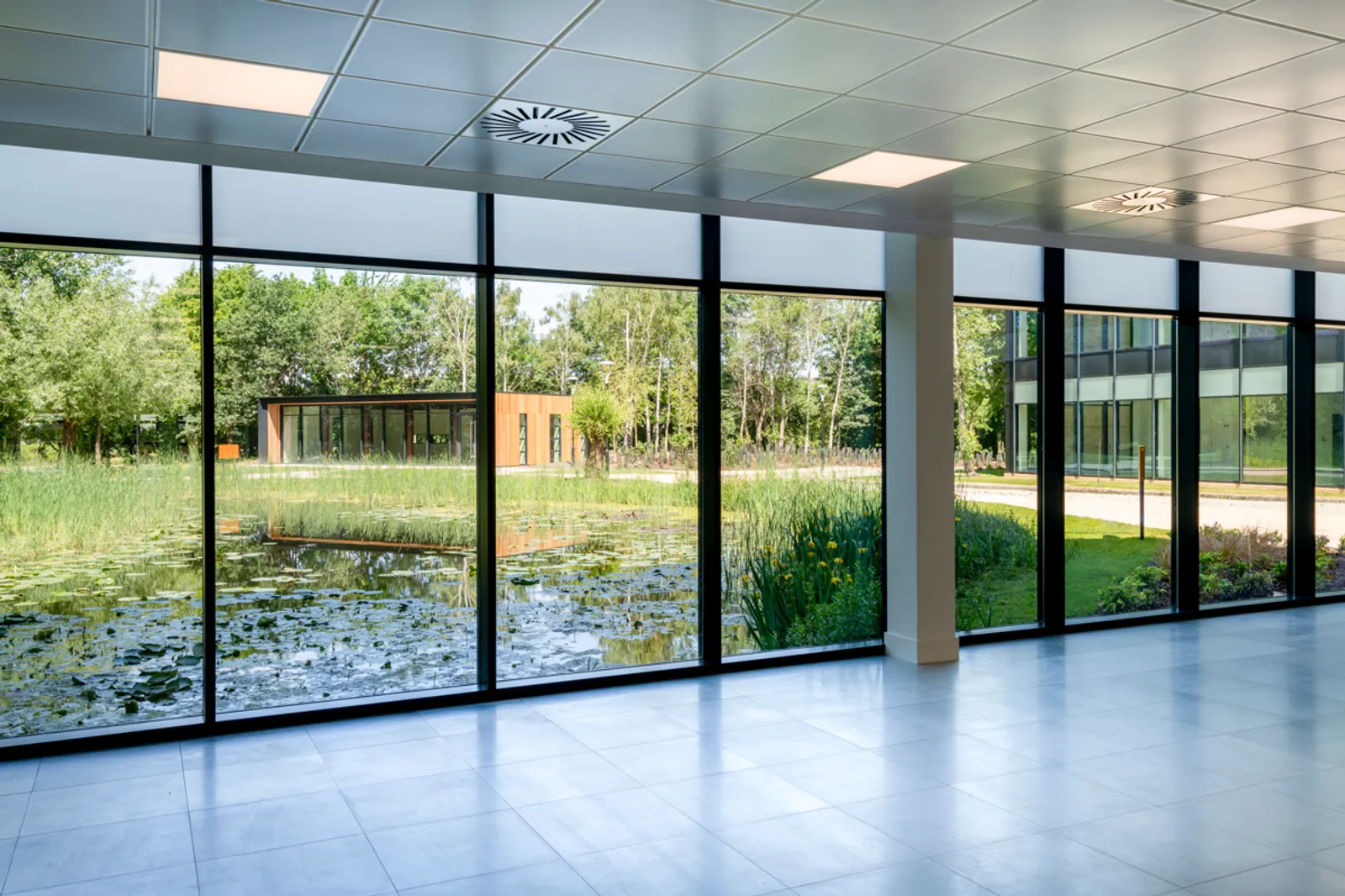 Maximising The Landscape
Spanning across their portfolio of buildings in the US, outside space is an integral part of Spear Street Capital's brand identity, and was therefore a very important aspect of the brief. A coherent, connected landscape design was implemented across the two-building campus and surrounding lakes, maximising the use of space and enhancing the tenant experience.
The specialist design was developed to utilise naturalistic, native British planting, with the outdoor space carefully considered to provide a perfect balance between nature and amenity areas. A new standalone café space unifies the two buildings, providing an opportunity for occupants, as well as tenants from across the business park, to break away from the main buildings to socialise.
Scenic pedestrian pathways have been built around the two existing lakes adjacent to the building entrances - further enhanced with projected decking to offer a chance to experience the local wildlife. The approach focused on minimising impact on these valuable areas by working with nature, not against it.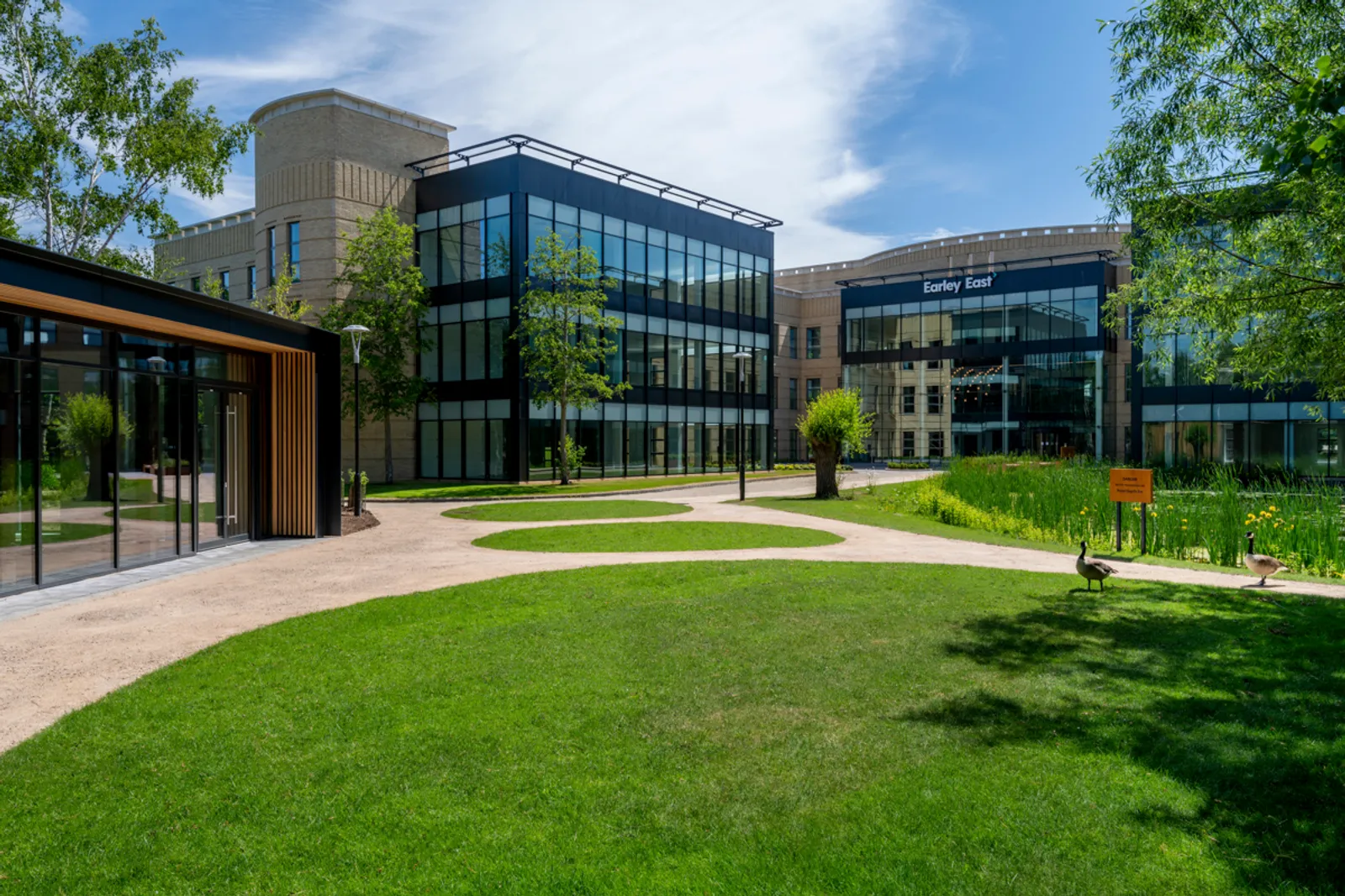 Prioritising The Environment and Wellbeing
Luke Hacking, Senior Director at CBRE discusses the measures taken to ensure that both tenants and their employees are satisfied with the properties low carbon performance and efficiencies; "Buildings of all types, but especially workplaces, need to support the health and wellness of everyone using them. It is also about the journey to work. Therefore, bike parking facilities, a large boutique shower and washroom block and electric car charging points have been installed also."
Across both buildings, Spear Street Capital set high sustainability targets. Our team worked collaboratively with suppliers to drive the project towards carbon neutrality; grouping deliveries, eliminating single use plastic and even going so far to make sure only Fairtrade tea and coffee was available on site. The Earley Buildings has achieved an energy performance (EPC) B rating, a Gold Ska grading and a 'very good building' BREEAM status.
Earley East and West are more than just refurbished office buildings with a sustainability focus; they are about creating a working environment that is a positive place to be, where everyone is engaged and productive – and this includes a strong emphasis on the wellbeing of all users who visit the entire Earley Building site.