Area are proud to announce we have been shortlisted for Project of the Year - Workplace Interiors in the 2020 Mixology Awards, for our work with IFS in Staines-upon-Thames.
The Mixology awards celebrate the very best in products, people and projects within commercial interiors, with a judging panel comprised of key players from the industry.
When IFS, a leading enterprise software company, relocated their UK Headquarters, they required a workplace design that put their clients and employees at the heart of the solution. Supporting staff wellbeing and providing a state-of-the-art technology centre for visitors were pivotal elements of the original brief.
Design Considerations: Materials & Products
Having previously been in a closed office environment, IFS wanted to take the opportunity to introduce flexibility and agile working areas into their new space. To achieve this, open-plan working zones were peppered with collaborative zones for those 'bump' moments between colleagues. Finishes, texture and composition were carefully thought through, with soft velvet materials, timber flooring, moss walls, and tactile furniture all incorporated into the design.
With an aspiration to create an exceptional visitor experience and illustrate our clients' own technology and systems, client-facing spaces have been designed using advanced technology so they can be tailored to the business visiting the building. From personalised screens in the boutique hotel-style reception area to the technology solution in the boardroom and the mind-blowing floor to ceiling state-of-the-art screens in the Client Experience Centre, each part of the users journey has been thoughtfully considered to showcase IFS' innovative products and services.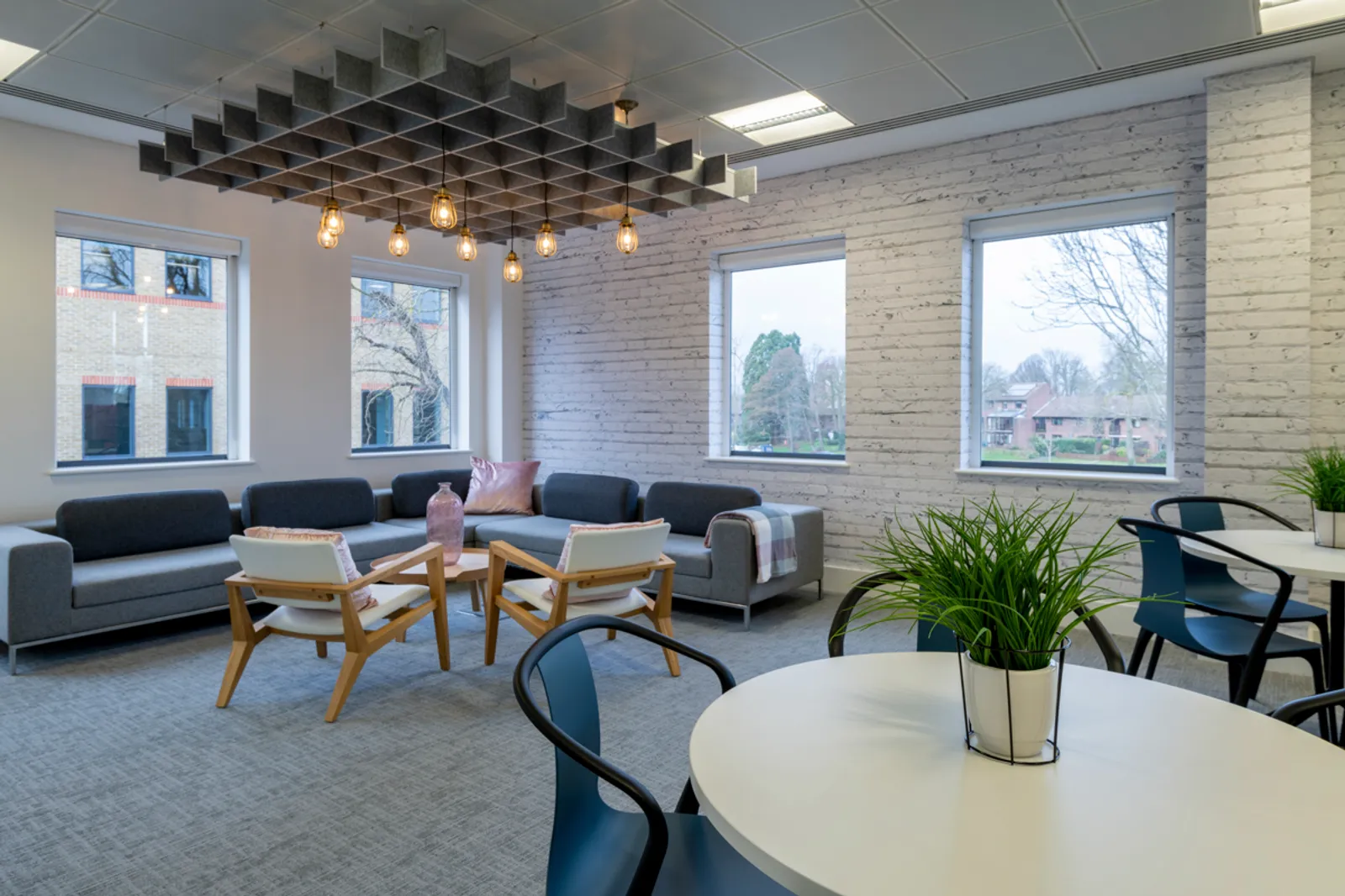 HR Priorities: Attraction & Retention Strategies
IFS care passionately about their employees, therefore the workplace design thoughtfully considers the emotional, physical and mental wellbeing of all individuals. The open-plan work setting promotes an inclusive culture and has given employees the choice and control over where they work; meeting pods, high tables or informal catch-up areas. The entire space is tech-enabled so laptops and phones can be plugged in wherever you work from.
An on-site gym is situated on the top floor, staffed by a personal trainer who assists employees with their nutrition - made easy by the fully subsidised restaurant facility downstairs that provides free healthy and nutritious meals. Adjacent to the restaurant is a beautiful terrace area which overlooks the Thames. The veranda is available for employees to use for events, informal catch ups and socialising during lunch.
Evaluating the Environmental Impact
Sustainability and environmental responsibility were important considerations throughout the design and furniture selection stage of the project. All materials used have been ethically sourced and the client enforces a 'zero to landfill' policy. Task chairs, meeting room furniture and over 200 lockers were reused and many sofas and lounge chairs were reupholstered. The new furniture items were selected from Orangebox and Claremont product ranges, considering their sustainability credentials.
Biophilic design was also a very important part of the brief; planting has been weaved through the joinery and is a key feature in the reception area. A beautiful moss feature wall has been installed in the restaurant area. Connecting to nature and the outdoors, employees are treated to river views from the restaurant terrace and from the main workspace on the first floor, creating a calm and comfortable working environment.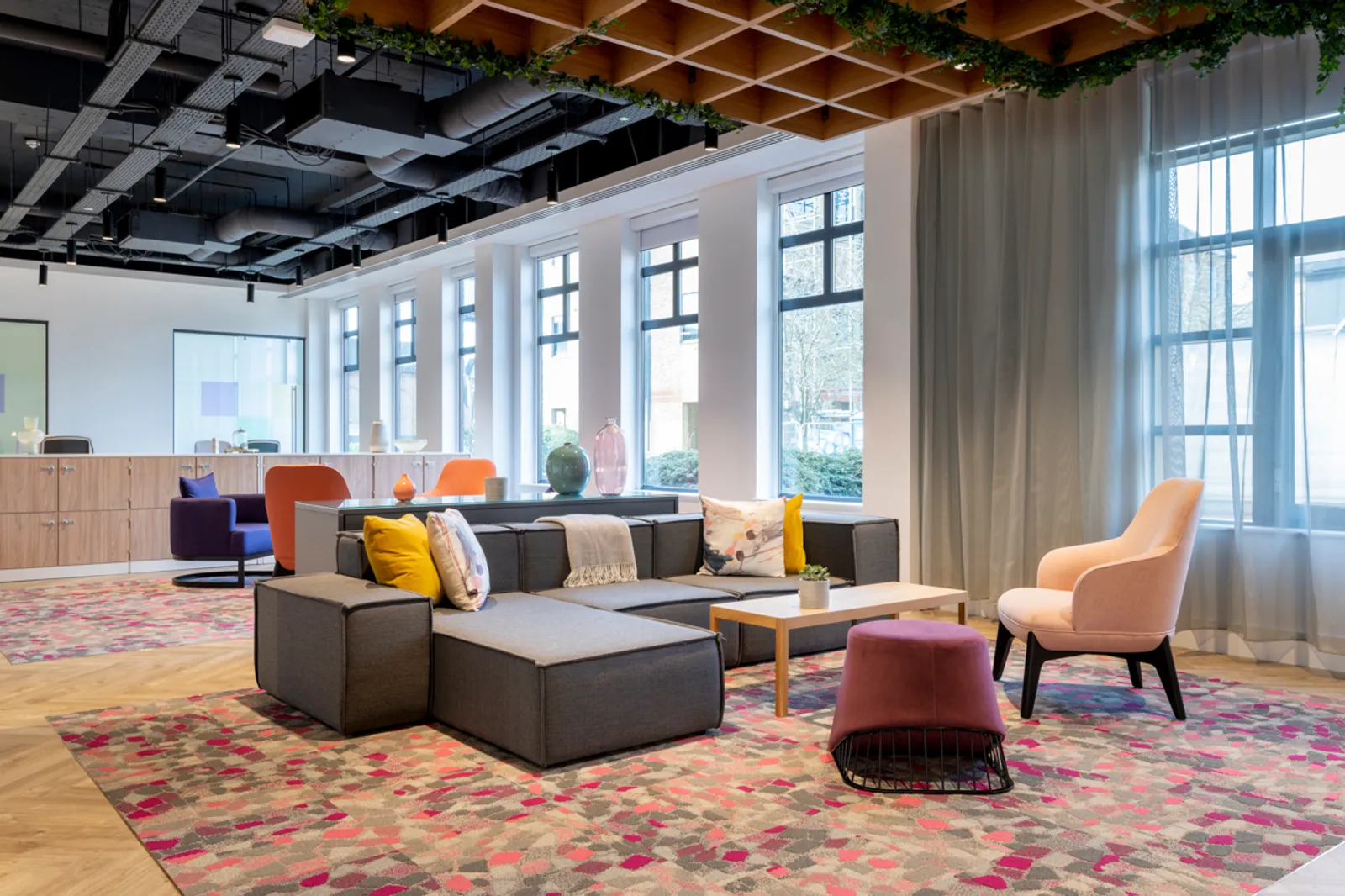 The Impact of Creativity
An important deliverable from the original brief was the construction of a 175-seat auditorium.The design seamlessly integrates with the AV and technology solution so their UK-based team can engage with their global teams via townhall meetings. The auditorium is also used for team meet-ups and as an event space for product launches. The state-of-the-art Client Experience Centre enables the IFS brand to come to life, introducing software solutions, artificial intelligence, and a facility to aid the revenue growth of IFS.
"Working in partnership with IFS has been a true privilege. Wellbeing is a current trend and working with a client that embodies the meaning of this word has been very refreshing. Employees really are at the heart of this design. IFS are progressive and forward thinking; their brief had been truly considered and we worked together to bring this alive. They have invested in large expansive zones such as the auditorium and the IX centre. It would have been easy for the client to halve these areas and include additional desking, but they have been brave and stood by their decision and it has really paid off. These zones help to offer a personalised client experience which in turn helps them to sell their amazing products."
Kathryn O'Callaghan-Mills, Design Director, Area
"In terms of meeting our business objectives, the design solution flawlessly aligns with our core values: agile, collaborative, trustworthy; and has created a 'home from home' working environment for our team who we fervently care for. The office has been so successful that occupancy has increased by more than 50% compared to the previous office – folks just love coming into the office!"
Nicola Carton, Director and Head of Global Facilities Management, IFS
A Global Reach
Following the successful delivery of their flagship workplace in the UK, we were thrilled to continue our long-standing relationship in the design and delivery of their new workplace in Germany. A key aspiration for their Stuttgart project was to reflect their new philosophy, supporting their evolved market position as part of their wider growth strategy.
The overall concept needed to be consistent with the look and feel delivered in Staines-upon-Thames, however with the addition of elements to reflect the personality of the local team. This new workplace would bring their sales and marketing teams under one roof, providing a variety of work settings for focus work, meetings, collaboration and relaxation.
Project Partners:
Project Manager – Andrés Monsalve RIBA APMP Mst (Cantab) and Leslie Clark
Technology & AV – Purple and Design Integration
Internal Project Manager – Nicola Carton, Director and Head of Global Facilities Management, IFS and Sal Laher, CDIO and EVP of Facilities Management, IFS