Top
workspace design

trends
From revolutionary refits to radical redesigns, 2023 was an exciting year for the modern workspace. But you know what? 2024 is going to be even bigger.

From integrating innovation into every corner to future-proofing the workplace for sustainability, these are the top workspace design trends for 2024 and beyond.
1. Flexible working

as an established practice
There's no getting around it: flexible working arrangements are here to stay, and smart businesses will continue to make provisions for their employees to work in this way and figure out how to design the best workplace solutions to adapt to a growing hybrid workforce. Our free, downloadable activity-based working guide includes the key principles of an activity-based working model, how to create and successfully implement a strategy based on these principles, and provides examples of how activity based working models work in practice.

While estimates vary, most data points to hybrid work arrangements encompassing 25-60% of the workforce in 2023, with an upward trend expected in coming years. The exact percentages differ based on location, industry, job role, and individual workplace policies. However, hybrid work is becoming the predominant model for knowledge workers, in no small part because research suggests that hybrid workers are 22% happier than those working onsite full-time.
Retaining talent and attracting new prospects in 2024 demands that workspaces take a more modular approach to their design. Flexible and agile workspaces are more necessary than ever before, and this equates to some spaces that are versatile and can be easily deconstructed to allow employees to reconfigure spaces on demand to suit ever-changing needs.
But this isn't just about catering for unallocated desking and choices for dialling in; workers need more comfortable ways to connect and collaborate, as well as areas to focus away from collaboration where they can focus on solo tasks too.
Research revealed that remote workers struggled with collaboration, communication and loneliness. But this doesn't have to be an issue in a well-designed workspace with the right supporting technology.
The debate around whether or not open-plan is the right solution for communication and collaboration is far from over; one study suggested this layout produced a 70% drop in face-to-face interactions and an increase in email and messaging by 50%, though others suggest quite the opposite. The best solution is to consider how to break up the open plan space successfully. This is key to supporting employees in being able to focus and collaborate in the right areas to reduce the chance of communication dropping.
While the jury is still out on this one, what is certain is that this setup isn't necessarily a problem, provided it is part of a well-rounded workspace solution. For 2024, we'd recommend giving people greater autonomy over how they work and accepting that there is no one-size-fits-all solution. The best workspaces, therefore, will provide a mixture of open-plan areas where employees can work and socialise, alongside huddle spaces, intimate meeting rooms and closed booths for private calls and focused concentration.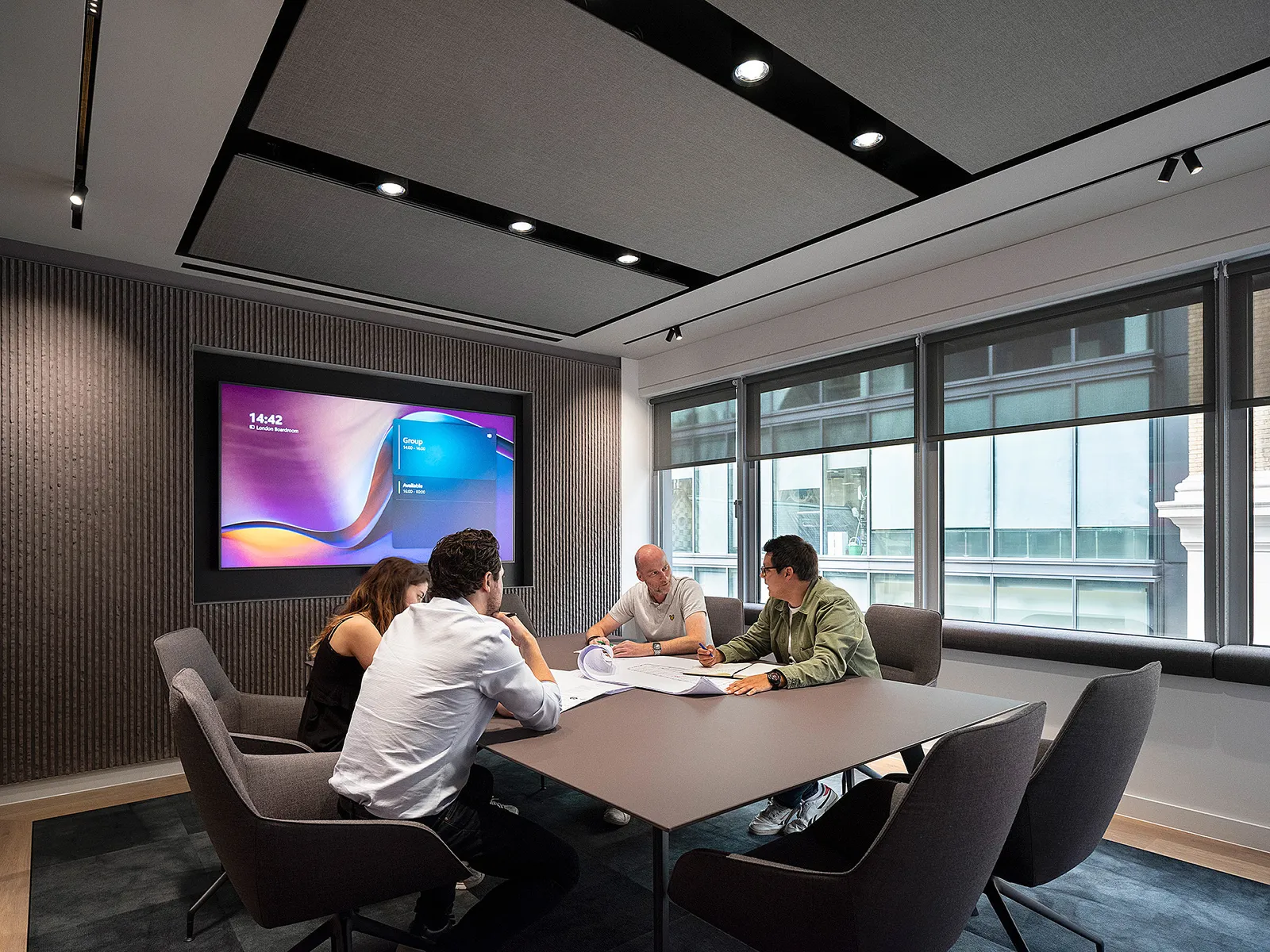 Wondering whether your office space is
flexible enough

to satisfy the needs of your occupants in 2024?
Are there adequate spaces for your office workers to collaborate?

Have you considered both agile workspaces and hybrid workplaces? For example, huddle spaces that allow remote participation that feels physical.

Does the technology stack used in-house reflect your current ways of working?

Are you adequately set up to allow seamless integration for remote participants? For example, do you have the right smart technologies to enable seamless remote meetings?

Do your collaborative spaces inspire creativity and new ways of working?

Does your current workspace suit your employee needs?
Follow this framework, and you'll be in good stead to provide the flexibility that people expect.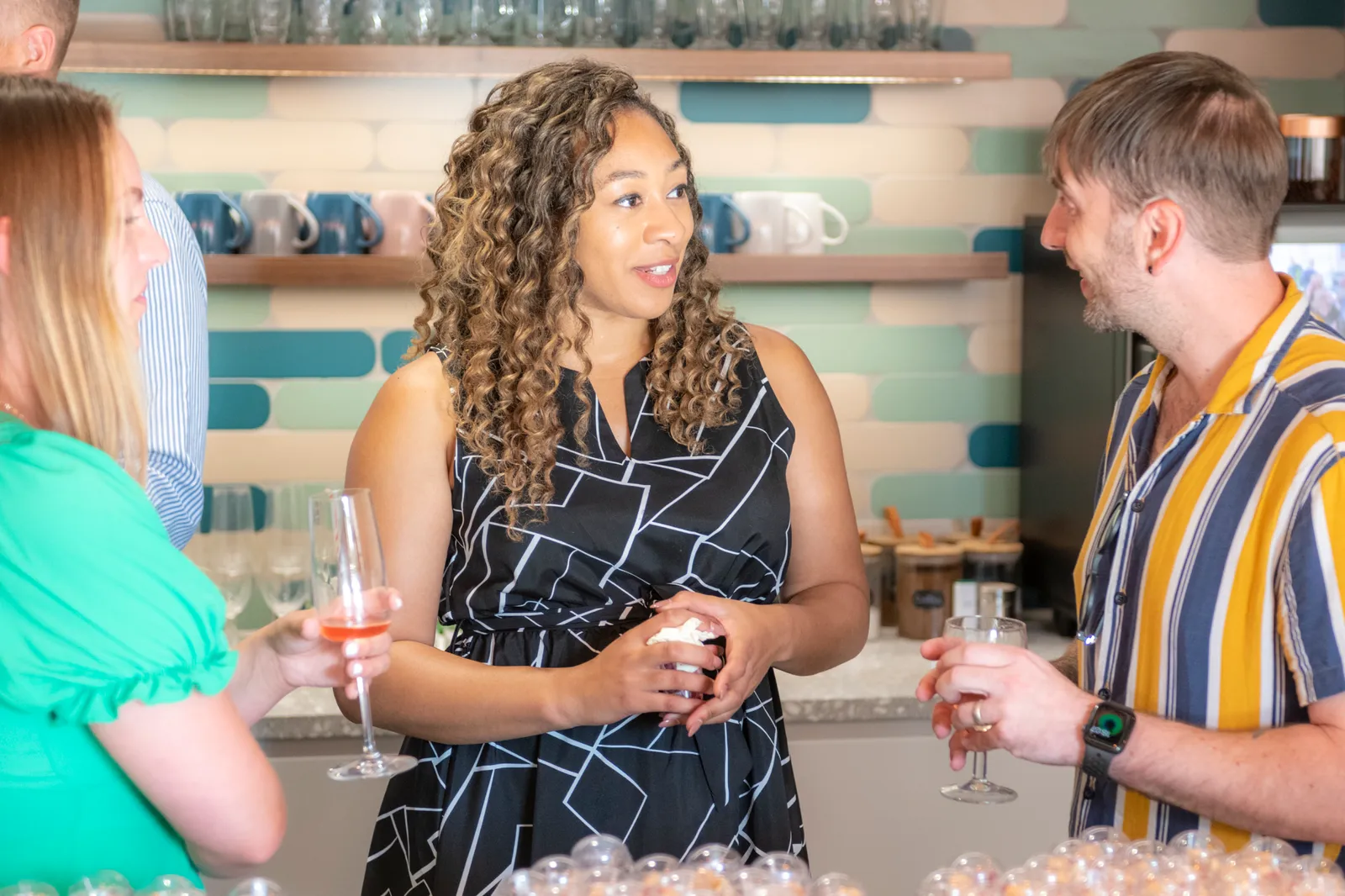 2. AI

to play a

leading role
While current literature is limited around the influence of AI in workplace design, its potential to enhance workplace experiences is considerable and can impact the following areas.

Adaptive furnishings: Furniture embedded with AI could automatically adjust its height, angle, etc., to provide ergonomic support tailored to individuals.

Smart lighting: AI-enabled lighting systems could automatically tune light levels, colour temperature, and direction based on tasks and preferences to enhance comfort and focus.

Immersive virtual offices: AI could enable simulated virtual office environments for remote employees to collaborate as if physically together through VR and AR.

Digital concierge services: AI assistants could handle meeting scheduling, visitor management, conference room bookings, catering orders, and other logistics to optimise office efficiency.

Personalised HVAC: HVAC systems running AI algorithms could customise ventilation, temperature, humidity, and air quality in real time based on individual comfort needs.

Crowdflow optimisation: AI sensors could track real-time occupancy to direct foot traffic, allow touchless access control, and provide data to refine space usage.
As these technologies develop further, we can expect to see more empirical research quantifying the various benefits of AI applications for office design.
3. Fostering communities with
workplace design
Intentional workspace design can help encourage a sense of belonging and community between employees. Some ways that this could be achieved include:

Creating open layouts with communal spaces: As mentioned above, there is still debate amongst experts around whether an open plan layout is the most conducive working environment. One study in the Journal of Environmental Psychology found that spatial arrangements allowing employee interactions can increase workplace friendships. Open floor plans with shared lounges, cafes, and informal gathering areas promote chance encounters and bring people together. However, the most considered office designs will not dismiss the need for smaller, more private workspaces where employees can focus undisturbed on tasks too.

Designing for collaboration: Research by Herman Miller indicates that informal spaces for socialisation boost employees' sense of belonging. Spaces like huddle rooms, open meeting areas, and flexible workstations allow employees to collaborate and interact easily.

Including recreation spaces: A Steelcase report shows open collaboration areas increase employees' connection to colleagues. Game rooms, fitness centres, nearby walking trails, and outdoor seating provide opportunities for social bump moments.

Enabling personalisation: Whiteboards, flexible furnishings, and space for personal items create a sense of ownership.

Incorporating warm elements: Natural woods, warm lighting, textures, and fireside seating create welcoming spaces.

Design for all generations: Incorporate options appealing to younger and older workers to promote relating. Research by Future Workplace and View suggests generational diversity in workspaces helps unite.

Provide tech access: Shared tools like A/V equipment, video conferencing, and creative tech bring people together.

Design for neurodiversity: Allow all people to feel included and have a place within the community.
Touches that spark connections, engagement, and a welcoming atmosphere for all generations and groups build bonds between colleagues over time and will likely be incorporated into thoughtful office designs in 2024.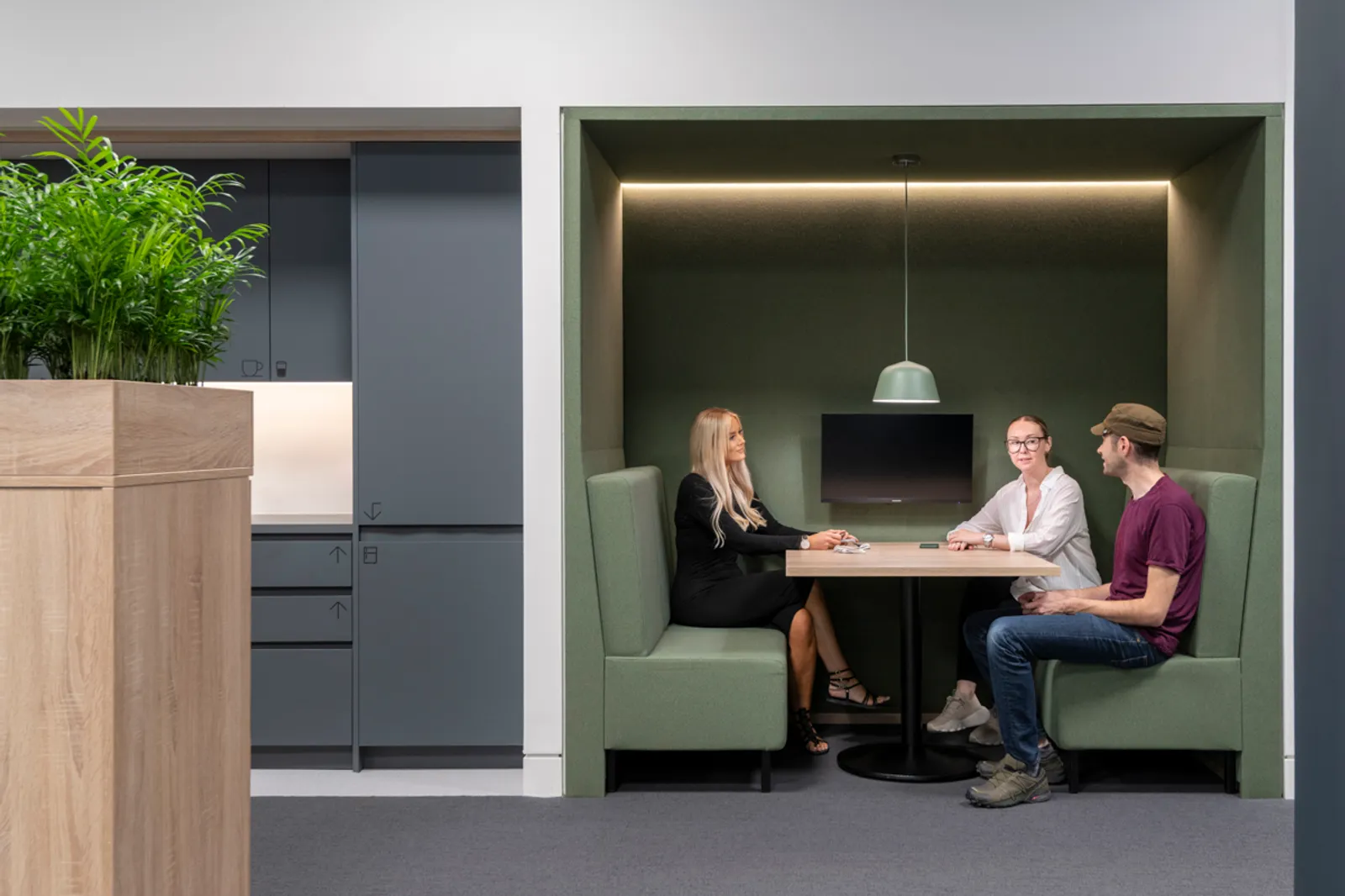 4. Nature to nurture with
biophilic design
Physical connections to nature have become increasingly crucial in workspace design, and research has shown that they can have many positive benefits for employees, including:

Reduced stress levels: A study published in the journal Environmental Science & Technology (1) found that exposure to nature can reduce stress levels by up to 40%.

Improved cognitive function: A study published in the journal Psychological Science (2) found that interacting with nature can improve cognitive function, including attention, memory, and creativity.

Increased creativity: A study published in the journal Nature Neuroscience (3) found that immersion in nature can increase creativity by up to 25%.

Boosted mood: A study published in the journal Environmental Health Perspectives (4) found that being close to nature can boost mood and reduce feelings of depression and anxiety.

Enhanced productivity: A study published in the journal Journal of Personality and Social Psychology (5) found that employees who work in offices with natural light and views of nature are more productive than those without these features.

Reduced sick days: A study published in the journal PLoS One (6) found that employees who work in offices with natural light and views of nature take fewer sick days than those without these features.
There are a variety of ways to incorporate physical connections to nature into workspace design. Some common elements include:
Plants and greenery: Plants are among the most popular ways to bring nature into the workplace. Plants absorb toxins and produce more oxygen, helping employees to breathe more easily. On top of that, people in workplaces with natural elements, such as greenery and sunlight, are known to be 6% more productive and 15% more creative. Importantly, their overall levels of well-being were also 15% higher. Try including biophilic walls of plants and circadian lighting to increase employee well-being and stimulate their connection with nature.
Natural light: Natural light is another critical element of biophilic design. It has been shown to improve mood, cognitive function, and productivity.
Water features: Water features can add a sense of tranquillity and relaxation to the workplace. They can also help to reduce noise levels and improve air quality.
Natural materials: Natural materials, such as wood and stone, can help to create a more organic feel in the workplace. The presence of natural materials has been linked to greater job satisfaction.
Indoor and outdoor spaces: Creating opportunities for employees to connect with nature indoors and outdoors can have a number of benefits. For example, indoor gardens, rooftop terraces, and outdoor seating areas can provide employees with places to relax, take breaks, and enjoy the natural world.
Natural shapes: Natural shapes is another key element of biophilic design. Natural shapes are a key element of biophilic design. These shapes can be found all around us in nature, from the curves of a seashell to the branches of a tree. Biophilic designers use natural shapes to create spaces that are both calming and stimulating.One of the most common ways to use natural shapes in biophilic design is through the use of organic curves. Organic curves are smooth and flowing, and they can help to create a sense of movement and vitality. For example, a biophilic designer might use curved furniture, curved walls, or curved ceilings to create a more inviting and welcoming space. Another way to use natural shapes in biophilic design is through the use of biomorphic patterns. Biomorphic patterns are patterns that are inspired by the natural world. For example, a biophilic designer might use a leaf pattern, a flower pattern, or a wood grain pattern to create a more visually interesting and engaging space.Natural shapes can also be used to create a sense of enclosure and privacy. For example, a biophilic designer might use a canopy of trees or a hedge to create a private outdoor space. Or, they might use a curved wall to create a more intimate workspace.

In addition to these specific elements, there are several other ways to incorporate physical connections to nature into workspace design. For example, using biomorphic shapes and patterns, natural colours and textures, and natural ventilation can all help to create a more healthy, harmonious and inviting environment.
As the world becomes increasingly urbanised and people spend more time indoors. Because of this, creating workspaces that connect employees with nature is more important than ever. By incorporating physical connections to nature into workspace design, businesses can create healthier, happier, and more productive workplaces.
Here are a few examples of how companies are using physical connections to nature in their workspace designs:

Amazon Spheres: Amazon's Spheres headquarters in Seattle is a three-domed glass and steel structure that houses over 40,000 plants from all over the world. The Spheres are designed to create a biophilic environment that promotes employee well-being and productivity.

Googleplex: Google's headquarters in Mountain View, California, is known for its whimsical and innovative design. The Googleplex features a variety of natural elements, including a rooftop garden, an indoor pond, and a living wall.

Patagonia: Patagonia's headquarters in Ventura, California, is designed to reflect the company's commitment to sustainability and environmental protection. The building features several natural elements, including a living roof, a rainwater collection system, and a natural ventilation system.
Beyond the apparent well-being benefits, adding natural elements like this makes the workspace more aesthetically pleasing - and that's more likely to encourage employees to favour coming into the office over staying at home.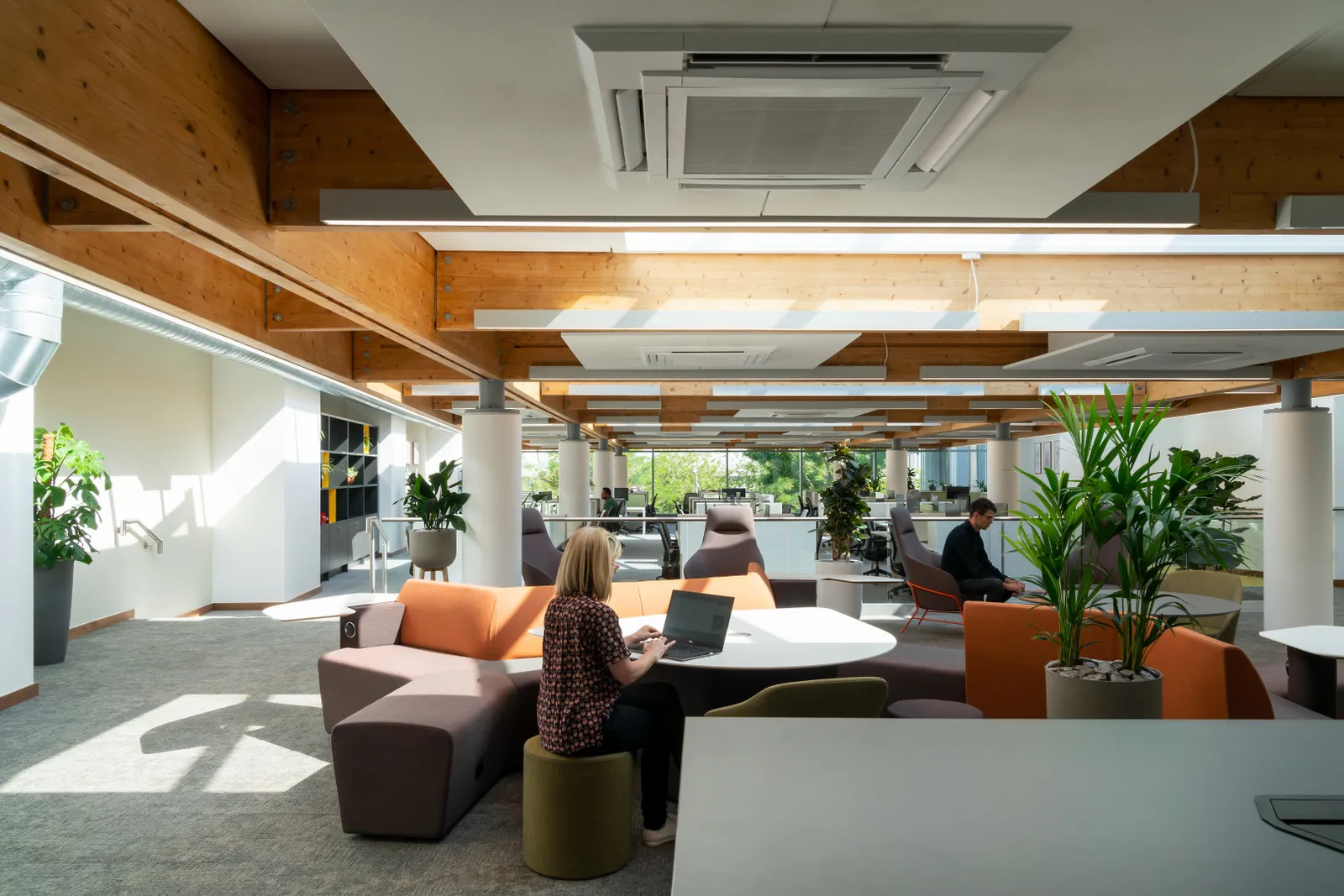 5.
Sustainable

style remains in-vogue
It's a shared responsibility across sectors to help the UK hit net zero by 2050. But when the built environment is responsible for around 40% of the total UK greenhouse gas emissions - and considering 80% of the buildings for 2050 have already been built - we need to make it our mission to get there ASAP.
Considering how to lower the impact of a business and incorporate sustainable elements into the workplace was a hot topic this past year, and rightly so. Focusing on renewable building materials, energy-efficient systems, and waste-reduction features to reduce environmental impact will continue to be at the forefront of intelligent office design into 2024 and beyond.
Designing a more sustainable workspace doesn't equate to compromising on style.
Sustainable design is all about using natural materials that last longer and embrace the circular economy. Working with suppliers committed to carbon neutrality and who use recycled materials with a lower environmental impact is an excellent starting point. If you are looking to redesign your office in 2024, you can make a positive impact and cut your carbon emissions by considering the following materials:

Reclaimed wood - rustic to the eye and much healthier for the planet.

Cork - this eco-friendly material is becoming a popular choice for flooring.

Bamboo - much more sustainable than hardwood (and you can't tell the difference).

Timber - this has the lowest carbon footprint of all the main building materials.

Recycled steel - easily moulded to resemble clay tiles, wood shingles or slate.
More and more workspaces will be doing their bit to hit net zero carbon in 2024, and that includes making climate-conscious decisions when it comes to design.
6. An
HR

focused approach
While many businesses focus their time and money on designing the most proactive workplace possible, they are missing a trick if they don't take into account elements of culture, community and experience in the workplace too. In a survey where employees were asked what would motivate them to come into the office, there was one resounding response: to be with colleagues. 85% would be encouraged to return to their workspace to rebuild team bonds, while 84% of employees wanted to socialise. Simply put, people are looking for a place to be together, and it would be remiss of employers not to provide it.
In 2024, designing an ideal workplace will be considered not just from an efficiency perspective but by looking through an HR lens as well.
Employee engagement, performance and loyalty are inextricably linked. So fostering the right environment for maximum productivity is as much about providing a suitable layout and sufficient equipment as it is about delivering that je ne sais quoi, which means employees want to return to work time and time again.
The modern workspace should promote diversity by fostering neurodiverse spaces that feel welcoming and inclusive for everyone.
In 2024, expect employees will look for more than just the right role and salary; they'll seek shared experiences and a place where they feel they belong.
Get this right, and employers can expect some pretty exciting results - high belonging is linked to:

56% increase in job performance

50% drop in turnover risk

75% reduction in sick days
In fact, further research suggests that when people feel a space is stimulating or inspiring, they have a greater sense of community. In turn, this contributes to higher levels of engagement, productivity, innovation and retention.
Nurturing employee wellbeing is another important aspect of HR and should not be omitted from design plans. Providing a space with lots of natural light, choosing comfortable, supportive, adjustable furniture and providing spaces to relax in, as well as creating a sense of community through the provision of collaborative workspaces must all be considered to ensure employee engagement and wellbeing is taken into account.
In 2024, designing an ideal workspace can be viewed as an opportunity to showcase your individuality - your brand purpose, character and values. Make sure it's reflected on the walls, fabric and furnishings so that your employees feel proud to walk through the doors each day, to share it on socials and feel part of something together. That's not only an ingredient to staying on trend; it's the key to creating an office culture and a more successful business.
7. Physical connections to foster
employee relationships
A workplace's design and layout can significantly impact the interactions and connections between employees. Thoughtfully designing spaces to facilitate chance encounters and comfortable group interactions can lead to more collaboration, relationship building, and knowledge sharing among staff.
Creating open office environments with shared spaces encourages employees to have spontaneous conversations that may lead to new ideas or solutions to problems. Common break areas where people naturally congregate allow employees to meet and get to know colleagues they may not work with directly. This can promote understanding between departments and broaden perspectives.
Intentional placement of coffee stations, hospitality areas, and informal meeting spaces creates opportunities for employees to bump into each other as part of their daily routines. These casual interactions help build social bonds and a sense of community within the company. Employees who have personal connections with their colleagues are more likely to feel happier at work, work better in teams, and feel more loyal toward the organisation.
Providing spaces for group work, brainstorming sessions, and non-work-related activities encourages employees to collaborate and interact in new ways. An office layout with configurable furnishings and open meeting areas makes it easy for people to come together formally or spontaneously. This flexibility supports creativity, relationship building, and knowledge transfer.
Companies can foster improved connectivity between staff from different teams, departments, and levels by taking advantage of office design strategies that bring employees together. Employees who feel connected at work are more productive, engaged, and invested in the company's success. Thoughtful workspace design is a simple but impactful way to facilitate the interpersonal relationships that ultimately strengthen a company's culture.
Here are some research findings that back up the benefits of designing workspaces to encourage employee connections:

The body of research clearly shows that purposeful workspace design to bring employees together provides measurable benefits for collaboration, engagement, productivity, innovation, and company culture. The data makes a compelling case for designing office environments with connectivity in mind.
Cutting-edge
workplace solutions

and

groundbreaking technologies

that help people work smarter - not harder
It's no surprise that countries scoring higher on the Better Life Index have, in part, a healthy work-life balance to thank for that. By designing workplace solutions that work for your employees, you can expect productivity levels and job satisfaction rates to soar.
The workplace is increasingly competitive, complex, and fast-paced. To keep up, leading companies are moving beyond traditional office layouts to cutting-edge workspace solutions designed to support more innovative work.
Workplaces at the forefront also leverage technology to enable seamless hybrid work. Easy-to-use video conferencing systems and interactive digital whiteboards allow remote team members to collaborate as though they're together in person. These tools remove friction from teamwork.
By designing sensory environments suited to focus, collaboration, or relaxation, forward-thinking, and learning and development, companies enable employees to work in ways aligned with their current needs. Rather than expecting workers to power through suboptimal conditions, smart, activity-based workplace design adapts the environment to the work and the worker.
There is no doubt that technology has a major impact on workplace design. In the past, workplaces were designed to support traditional office work, such as typing, printing, and filing. However, technology has made many of these tasks obsolete, and workplaces are now being designed to support a wider range of activities, such as collaboration, brainstorming, and creative thinking.

Here are some of the ways that technology is influencing workplace design:

Mobility: Technology has made it possible for people to work from anywhere, at any time. This has led to a rise in mobile work and hot desking. Workplace designers are now creating spaces that are more flexible and adaptable to meet the needs of mobile workers.

Collaboration: Technology has made it easier for people to collaborate with each other, even if they are not in the same place. This has led to a rise in collaborative workspaces, such as huddle rooms and video conferencing rooms. Workplace designers are now creating spaces that support different types of collaboration, from informal brainstorming sessions to formal presentations.

Wellbeing: Technology can also be used to improve employee wellbeing. For example, wearable devices can be used to track employee activity levels and sleep patterns. This data can then be used to design workplaces that are more supportive of employee health and well-being.
Smart buildings: Smart buildings use sensors and data to optimise the environment for occupants. For example, smart buildings can adjust the temperature, lighting, and ventilation based on the preferences of the occupants. This can lead to improved comfort and productivity.

Digital signage: Digital signage can be used to communicate with employees and visitors. It can also be used to display information about the workplace, such as meeting schedules and wayfinding information.

Workplace automation: Workplace automation can be used to automate tasks such as scheduling, meeting room booking, and catering. This can free up employees to focus on more important tasks.
Overall, technology is having a major impact on workplace design. Workplace designers are now using technology to create spaces that are more flexible, adaptable, and supportive of employee needs. By successfully leveraging technological advances, workplace designers can hope to provide spaces that ensure increased efficiency, improved communication and an advanced employee experience. In these thoughtfully designed, high-functioning workspaces of the future, people don't have to struggle to be productive. The space works for them, not against them.
Cutting-edge solutions empower people to do their best work in healthier, more sustainable ways. Smart workplace design allows people to work smarter.

A study published by the CDC (7) found that adjustable sit-stand desks reduced upper back and neck pain by 54% among office workers while improving mood and energy levels.

Research by the Fraunhofer Institute (8) shows that dynamic lighting tuned to human circadian rhythms can enhance concentration and performance by up to 12%.

One study (9) showed that optimised acoustics for open offices decreased loss-of-focus disruptions by 48% and improved workplace satisfaction.

A 2022 Steelcase report (10) found that employees rated their productivity 15% higher when provided tech-enabled collaborative spaces supporting hybrid work.

Research from Harvard University (11) found that well-ventilated spaces with optimised air quality and dedicated focus areas increased office workers' cognitive function by 101% on cognitive tests.

Over 50 studies have been conducted (12) with results indicating there is an increase in hospital patient recovery rates through design elements like natural light and noise reduction.

Herman Miller research (13) found that ergonomic furnishings tailored to individuals' needs delivered a 7:1 ROI from performance gains.
The data demonstrates that evidence-based workplace design focused on human-centred functionality delivers measurable improvements in well-being, productivity, satisfaction, and performance. There is no doubt - investing in cutting-edge solutions empowers people.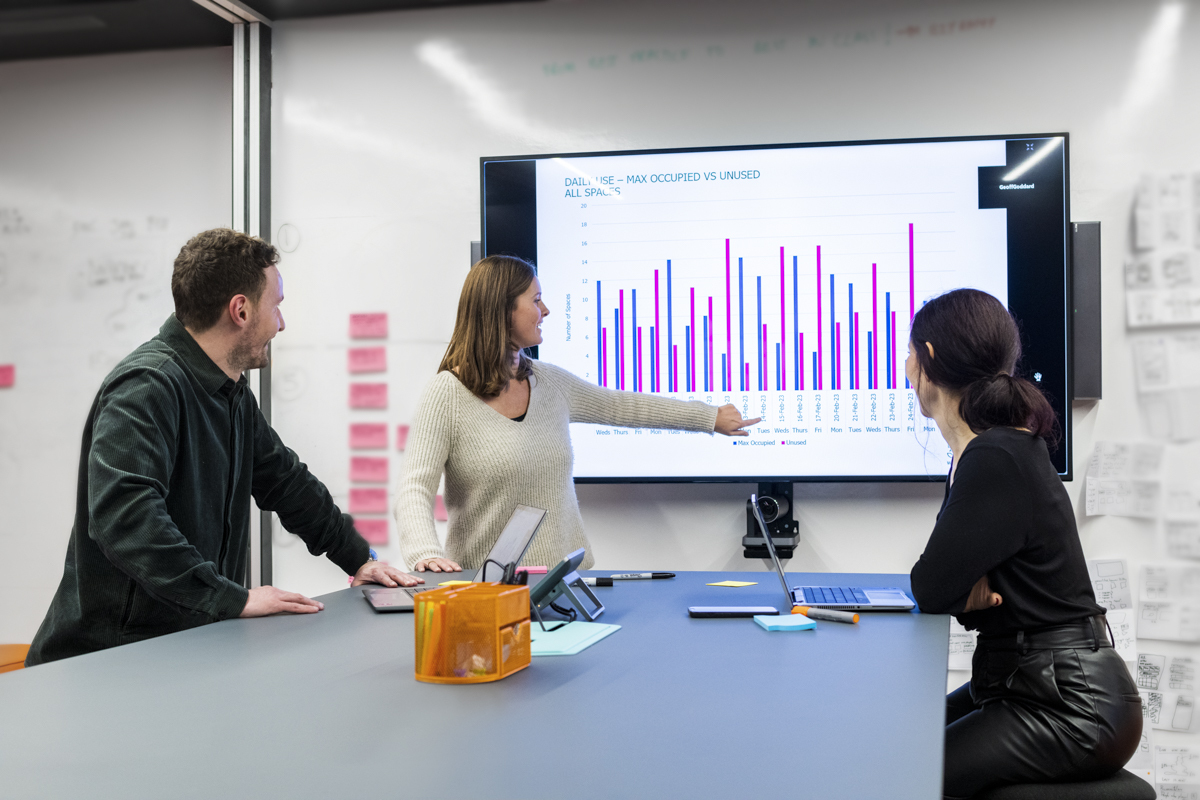 As we look ahead into 2024, emerging workplace design will be centred on flexibility, belonging, and intelligent optimisation. Spaces will embrace hybrid work through hot-desking, focus rooms, and top-tier remote collaboration technology allowing onsite and offsite employees to interact seamlessly.
Fostering community will also be a priority, with open layouts, recreation zones, and inclusive design details bringing people together. AI and automation will increasingly enable offices to respond in real-time, with data-driven workflows, predictive analytics guiding design, and adaptive furnishings customising environments.
With people and technology driving evolution, purposeful workplaces in 2024 will not just accommodate – they will empower. The office will act as a hub for productivity, innovation, and meaningful human connection.
Want to make sure your workspace stays ahead of the trends in 2024? Get in touch.