In the third and final instalment in our series on designing a better workplace experience, we delve into the stories of three companies that, despite operating in diverse markets, converge around a shared commitment to a people-centric approach.
Workplace experience is crucial to employees today, regardless of their industry. Whether you work in IT, insurance, or operate as an online retailer of second-hand clothing, the quality of the workplace experience matters. In an era where people have more freedom to choose where and how they work, adapting the workplace to meet changing employee expectations is a universal need.
In this exploration to unravel the elements that transform a workplace into an enticing haven, inviting employees back to the office, we'll examine the developments at three companies: Convex, a major player in the insurance sector; TD SYNNEX, a leading IT services business; and Vinted, Lithuania's renowned second-hand clothing brand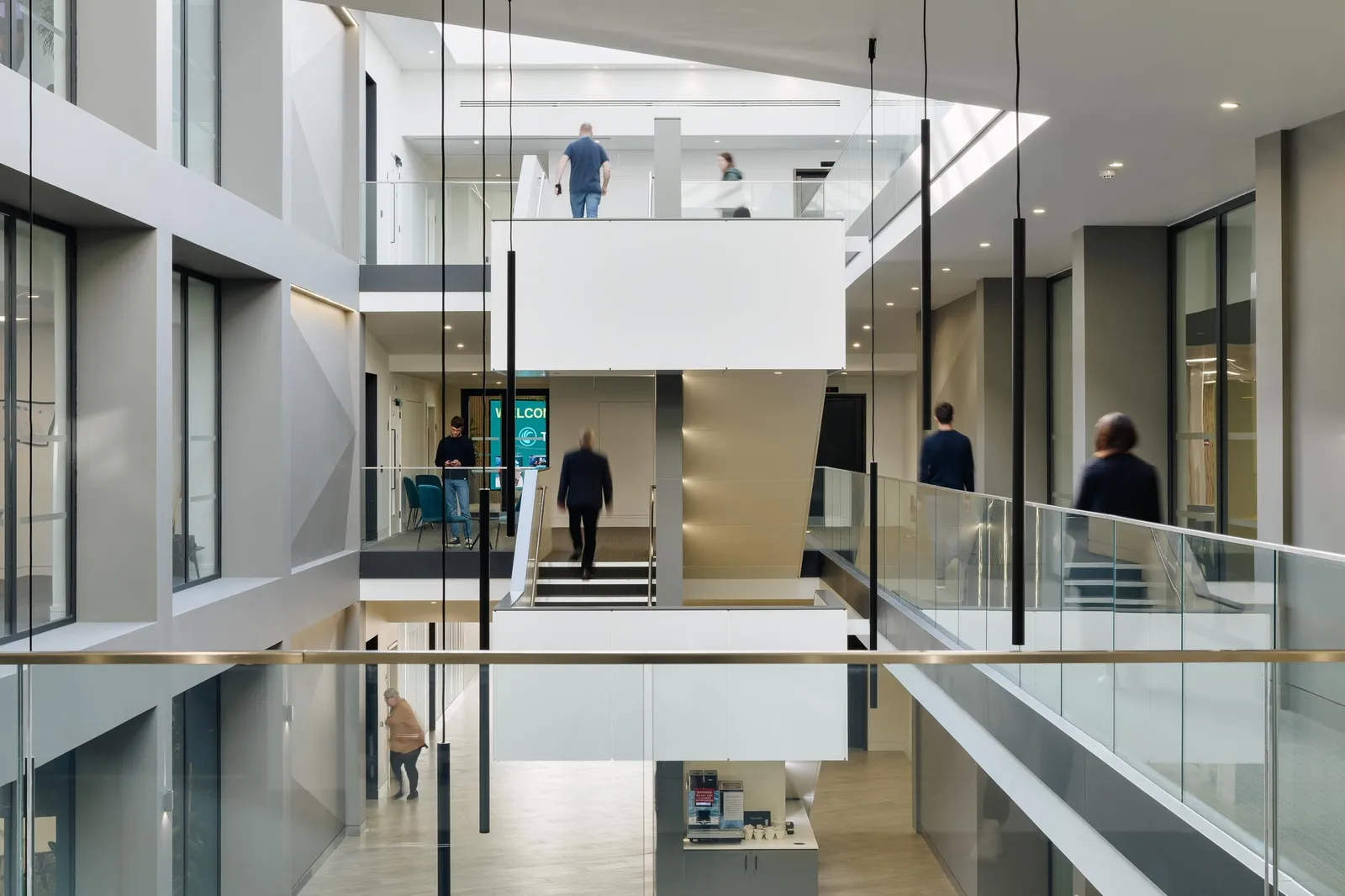 Convex
We've been collaborating with Convex on projects in London, Bermuda, and Luxembourg since 2019. Our journey with Convex started with the design and construction of their expansive 55,000 sq ft London office space. This endeavour was prompted by Convex's expansion in London, reflecting its commitment to strengthening its position in the global insurance market. The prestigious Scalpel building in London was chosen as the location for their new workplace. It was strategically selected to attract talent and foster growth. The Convex office space was meticulously crafted to provide an exceptional user experience across five floors.
During a half-day creative workshop with a research team from WORKTECH Academy, we identified six essential building blocks for a great workplace experience:
A Sense of Identity
Personalisation and Choice
The Right Spaces
Functionality and Support
Sensory Wellbeing
Community and Pride
Applying these principles to our work with Convex, it becomes evident that a sense of identity is deeply embedded in the branding rollout. The company's visual identity is interwoven into the physical space, creating an engaging creative journey. Personalisation and choice are evident through a variety of settings, from flexible workstations for quick touch-down sessions to dedicated meeting areas and video conferencing suites for hybrid calls. Community and pride are expressed through breathtaking 360-degree views of London landmarks from the top three floors, symbolising Convex's position at the heart of the global insurance market. Sensory well-being is integrated through the use of eco-friendly materials, such as timber, sustainable furniture solutions, and biophilic elements, which bring nature inside, creating a healthy, green experience for staff and visitors.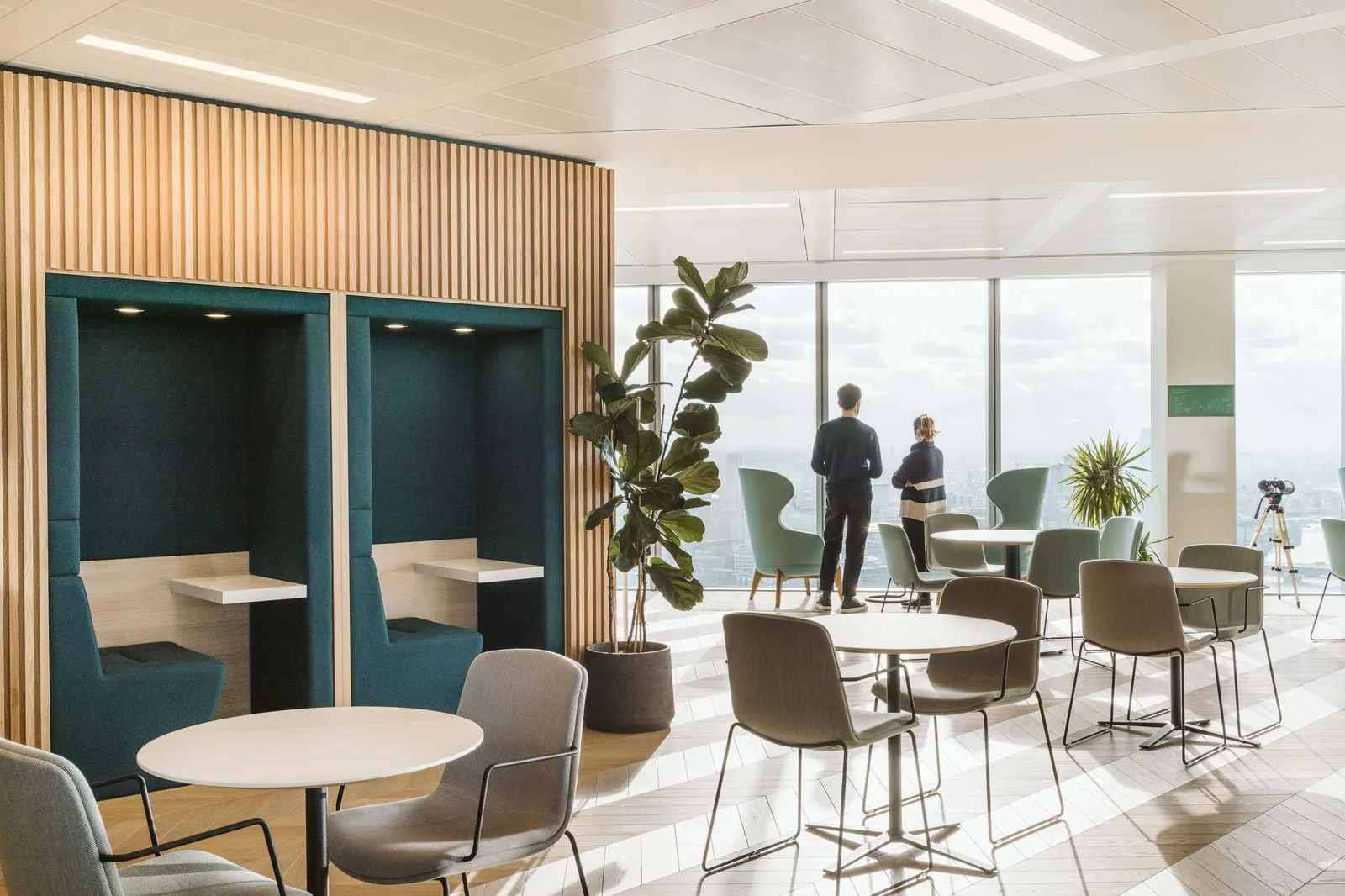 TD SYNNEX
Workplace experience was a significant part of the brief when we simultaneously worked on two office projects in Basingstoke and Bracknell in the south of England for IT services specialist TD SYNNEX. The design concept aimed for consistency across both sites, with a primary focus on creating a dynamic and positive work environment to encourage teamwork and engagement. Similar to Convex, TD SYNNEX sought to use the workplace as a platform for talent attraction and retention.
A clear sense of identity was established through a flexible workspace design that played with interesting geometry and angles against the base-build structures. This unconventional approach created neighbourhoods and destinations within the office, fostering a sense of belonging while maintaining agile principles for all employees. These offices have various relaxed and informal spaces, designed to maximise natural light, promoting sensory well-being. The settings are used for socialising, breakout sessions, and impromptu brainstorming. In addition, a dedicated well-being suite hosts exercise classes and provides employees with an area to de-stress and re-energise. Community and pride are reflected in a range of workplace amenities, including a games room, parents' rooms, and a multi-faith room. To accommodate post-pandemic hybrid work arrangements, multifunctional furniture was introduced.
According to TD SYNNEX Managing Director, David Watt, the company's vision for the workplace harmoniously aligns with the experience delivered through design. In his words, 'Our new office is truly remarkable – a vibrant and dynamic space that has exceeded our expectations. Since moving in, we've seen a significant increase in collaboration, employee engagement and our occupancy rate.'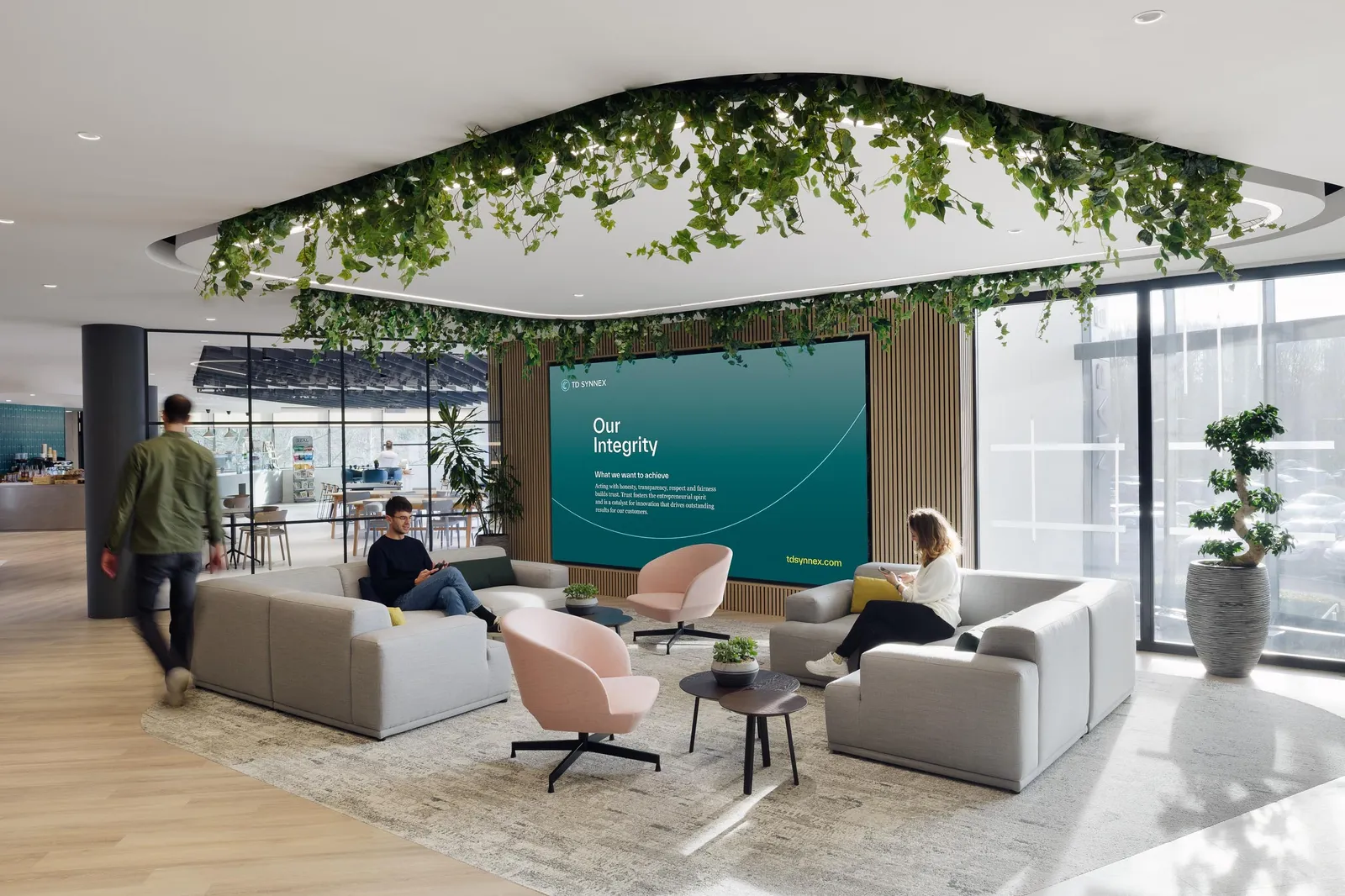 Vinted
Vinted, the online second-hand retailer with offices in Vilnius, Amsterdam, Utrecht, Prague, and Berlin, operates in a different industry but shares a similar commitment to enhancing workplace experience. With over 1,200 employees, Vinted places a strong emphasis on this aspect of their company culture.
We spoke to Ieva Užkurniene and Karolina Kontrimiene, Workplace Experience Leads at Vinted, to get their perspective on what makes a great workplace experience. A clue to how seriously Vinted takes workplaces experience can be found in their titles. Ieva manages the physical infrastructure while Karolina focuses on the digital experience. Their ambition is to allow the company to mature while still keeping 'the vibes of a start-up'.
Before COVID-19, Vinted was a very office-centric company. Now there is a hybrid policy with people asked to come to the office two days a week, typically Tuesday and Wednesday. When they come in, the experience is all about community, collaboration and connectivity, with busting cafes and busy entertainment spaces. 'It's all about the collective, avoiding hierarchy, feeling equal,' explains Ieva.
The company's core identity is bound up in reuse and recycling, so sustainability is a key part of its workplace strategy is terms of material choices and space reconfigurations to maximise use. Reviewing our building blocks of workplace experience, the Vinted team pointed to the importance of functionality and support – they are moving in the direction of self-service using an online platform. They also singled out sensory well-being for attention – they collect feedback on how people are feeling through a weekly survey and noise remains the biggest complaint in the office.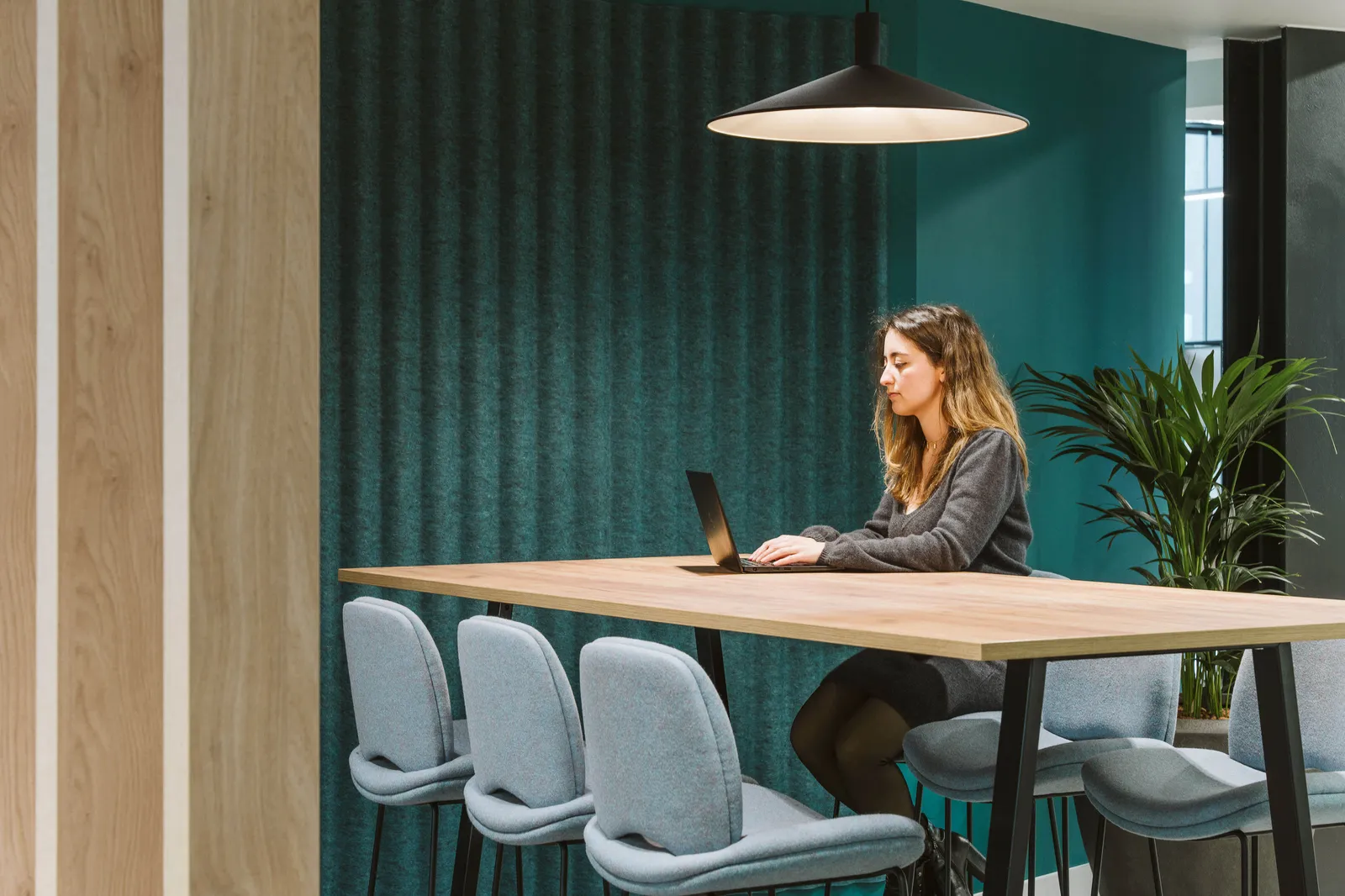 Just as Momcilo Pavlovic, Workplace Experience Lead at IKEA, explained how IKEA manages workplace experience, with a focus on how community and pride underscore all other aspects of workplace experience, the Vinted team also places great emphasis on this factor. 'It's our top priority,' says Karolina. 'We're trying to stay humble around our mission. We celebrate internally with intense live gatherings, which are very popular. And we've got the spaces to gather people together – the largest is in Vilnius.'
So, we have observed that three leading companies – Convex, TD SYNNEX, and Vinted – operate in diverse markets but share common principles when it comes to adopting a human-centric design approach to enhance the workplace experience.
If you would like to learn more about how we can assist you with your return to work strategy, get in touch.